Malay Classic Wooden Junk Rigged Sailing Boat
Naga Pelangi is a Terengganu built junk schooner of the Pinas type combining the looks of old with the basic luxury and the amenities of a modern yacht for you to enjoy a little time out on this painstakingly hand crafted vessel.
She is the first and only traditional Malay sailing boat (perahu besar) for charter in Malaysia and permanently based in the Langkawi Archipelago situated on the west coast of the Malay Peninsula.
From November to May the boat is moored in the Datai Bay, just a stones throw from The Datai Langkawi, a 5 star resort on the north west coast of Langkawi, to which she is exclusively chartered out.
Naga Pelangi can take 12 guests on day cruises and accommodate 6 guests on extended cruises in 3 fully equipped double cabins with private bathrooms
Join us for an unforgettable sailing experience on this truly Malaysian sailing boat!
Enjoy the privacy of a customized cruise whilst the captain and his crew cater to your wants and needs. Sit back and relish the amazing scenic beauty of South East Asia, watch the eagles soar above, while we gently glide over the water to exotic destinations.
Whether you prefer adventurous sailing, meeting exotic cultures or choose to lay back on pristine beaches, diving and snorkeling in secluded bays of remote islands, we will use our experience and knowledge to meet your expectations and make it all happen.
Always smooth winds from behind
Christoph Swoboda
NAGA PELANGI - THE RAINBOW DRAGON
THE MOVIES :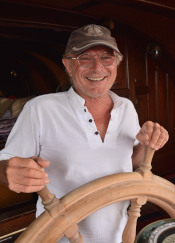 Christoph Swoboda
Master of SV Naga Pelangi
Tel.: +60 12 989 2023

Ulrike Spilger 
marketing & coordination
Tel.: +49 6201 53710
Copyright: All rights reserved. Copyrights of this website are owned by the management of the Naga Pelangi.
It is expressly permitted to copy, print and distribute these web pages and containing images as well as the attached documents for informational purposes of non commercial nature. We do not accept any liability for the content of the external links given. The organisations providing the links are exclusively responsible for their content.
IMPRINT & DATA PROTECTION (German)