Naga Pelangi – The Rainbow Dragon is for Sale. Buy now!
The First and Only Traditional Malay Sailing Boat for Charter in Malaysia
was painstakingly hand crafted from 2004 to 2010 on Duyong Island in Kuala Terengganu, the traditional boat building center of Malaysia on the east coast of the Malay Peninsula. This vessel was built to be a charter vessel and with her ancient looks outside and her amenities of a modern yacht inside she combines the best of two worlds.
She offers old-world luxury with accommodations for 6-8 guests in 4 double cabins featuring en-suite toilet/shower. She also has crew quarters forward which allow three crew to live on board. Junk rigged like the Malay trading freighters of old her unique looks make her a head-turner everywhere she goes.
Traditional design, handpicked materials and exquisite craftsmanship came together to create this capable and romantic replica of the old style sailing ships.
Naga Pelangi is built along the lines of a traditional "Pinas", the famous junk schooners of the South China Sea. Traditional techniques were blended with international yacht standards and modern materials such as Epoxy, Polysulfide deck caulking, Dacron ropes and sails to create this prototype of a Malay classical yacht.
Only the best wood the Malaysian rain forest offers was used in her construction: Chengal, the wood some call the Malaysían Teak, which the Malays traditionally use to build their boats and houses with. This wood is extremely hard and resistant to rot and decay. The whole boat, even the interior is built with grade A Chengal. 1 ¾" " planks are fastened with Silicon bronze screws to the 3" and 4" sawn frames. All through hull fasteners (screws & bolt nuts) are Silicon bronze. The deck was done with finest quarter sawn Burmese Teak.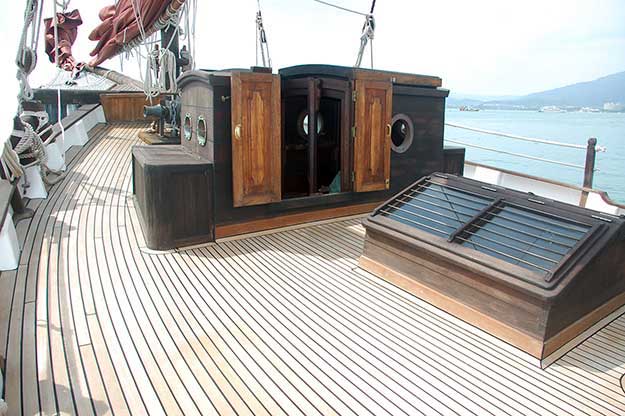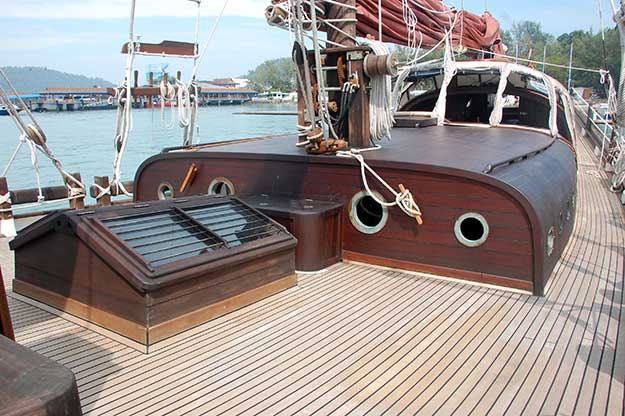 Since 2011 Naga Pelangi is well established as a charter boat in Langkawi. The Datai Hotel has chartered the boat since 2014 to give their guests a unique sailing experience.
Naga Pelangi was built for her current owner after he finished his circumnavigation on his first Duyong built junk schooner in 1998. Upon his return to Malaysia he found the building tradition on the brink of loss. The craftsmen in Terengganu had built these "perahu besar" (Malay: big boat), "junk hybrids" well known in SE-Asian waters for centuries using an archaic building technique only practiced in the Malay cultural sphere.
He sold his first boat and decided to build the new Naga Pelangi in an effort to revive and perpetuate the tradition cultivated by the craftsmen of Duyong Island. His idea was to create a last and lasting example of a bygone area.
Since the day of the launch the owner has lived on board and maintained her meticulously.
Buy now, direct from owner:  275.000,- € only !
tel.: +60 12 989 2023
christoph[AT]naga-pelangi.com
Basic data
Type: Sailboat, junk rigged schooner
Year: 2007
Location: Malaysia
Name: Naga Pelangi (Malay: Rainbow Dragon)
Flag: Malaysia
Builder: Traditional, Duyong Island
Material: Wood, Chengal on Chengal, deck: Burmese Teak
Fasteners: Silicon bronze (through hull); gal. steel and stainless (in hull)
Dimensions
Length: 29.50 m
Beam: 5.7 m
Draft: 3.0 m
Ballast: 12 t of lead, bolted under the keel
Displacement: 72 t
Capacity
Maximum number of passengers: 30
Cabins: 6
Berths: 12
Heads: 5
Water capacity: 5.000 l in two stainless steel tanks
Motor
Engine: Volvo TAMD 60A
Power: 200 HP
Fuel capacity: 3.500 l in 5 GFK (GRP) tanks
>> FULL TECHNICAL SPECIFICATIONS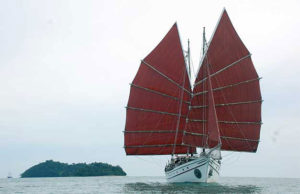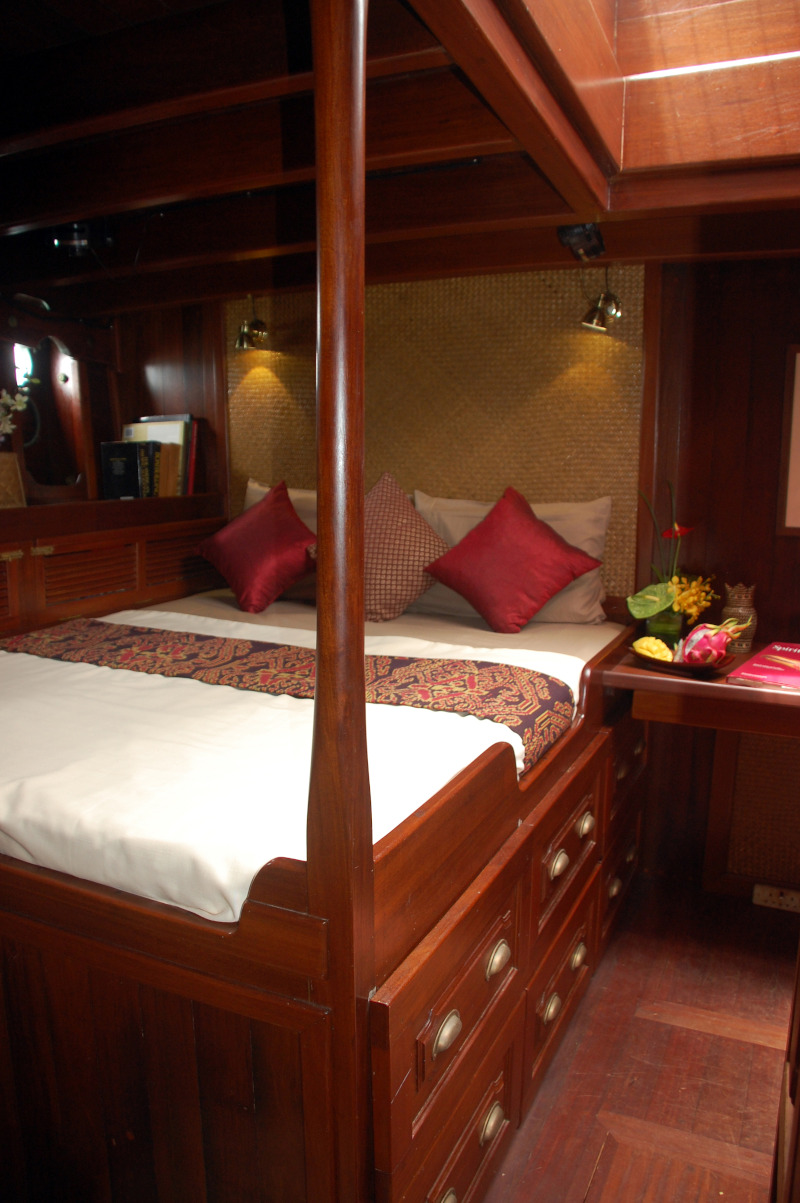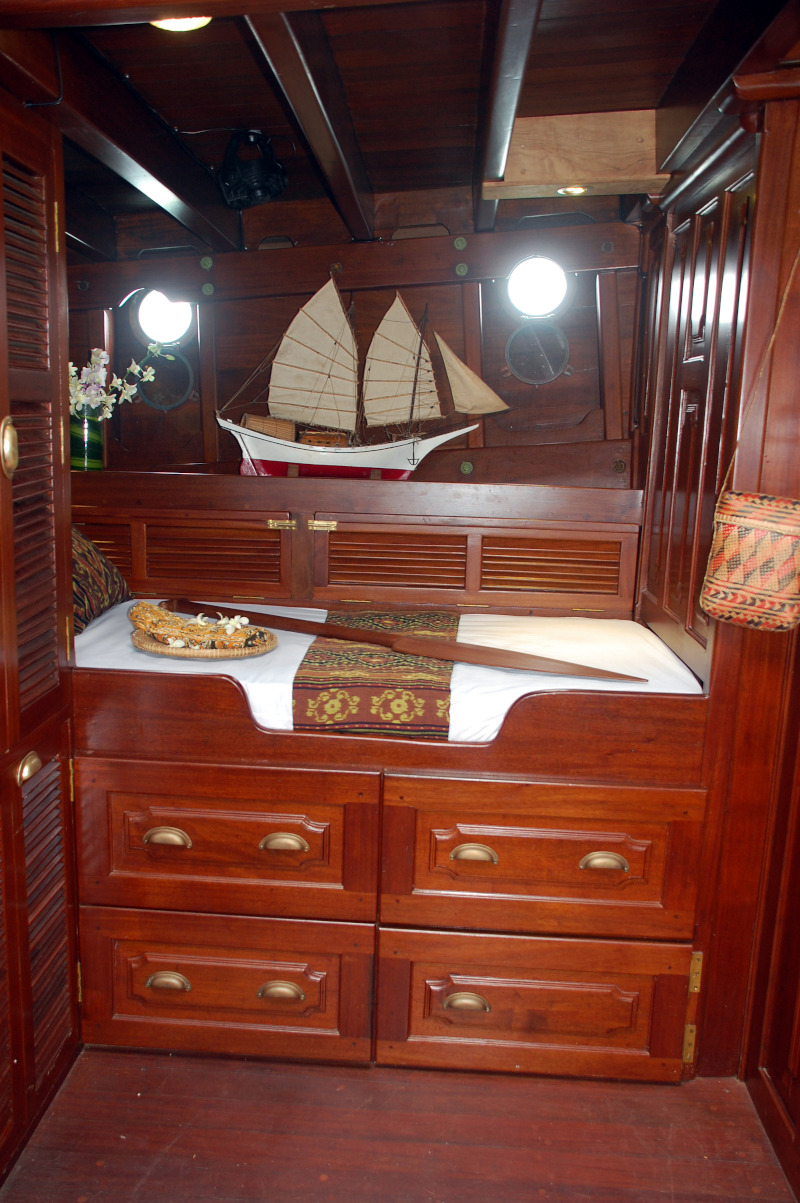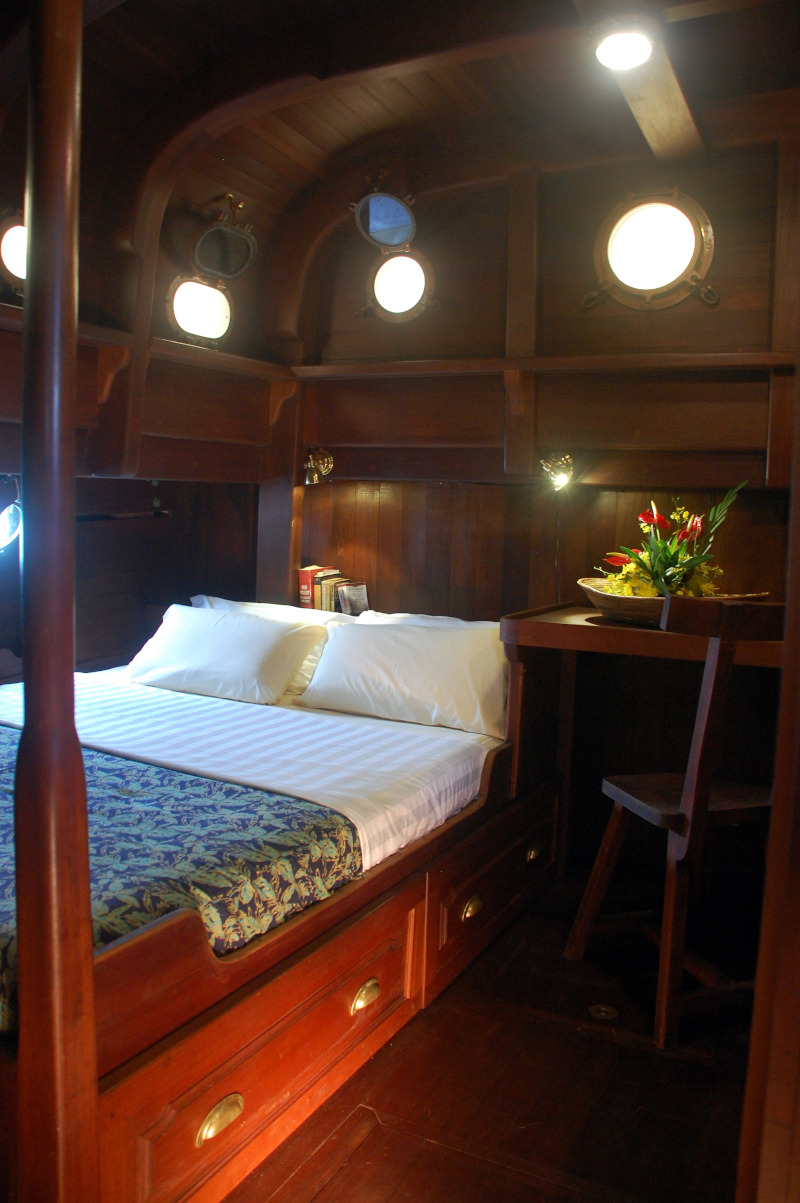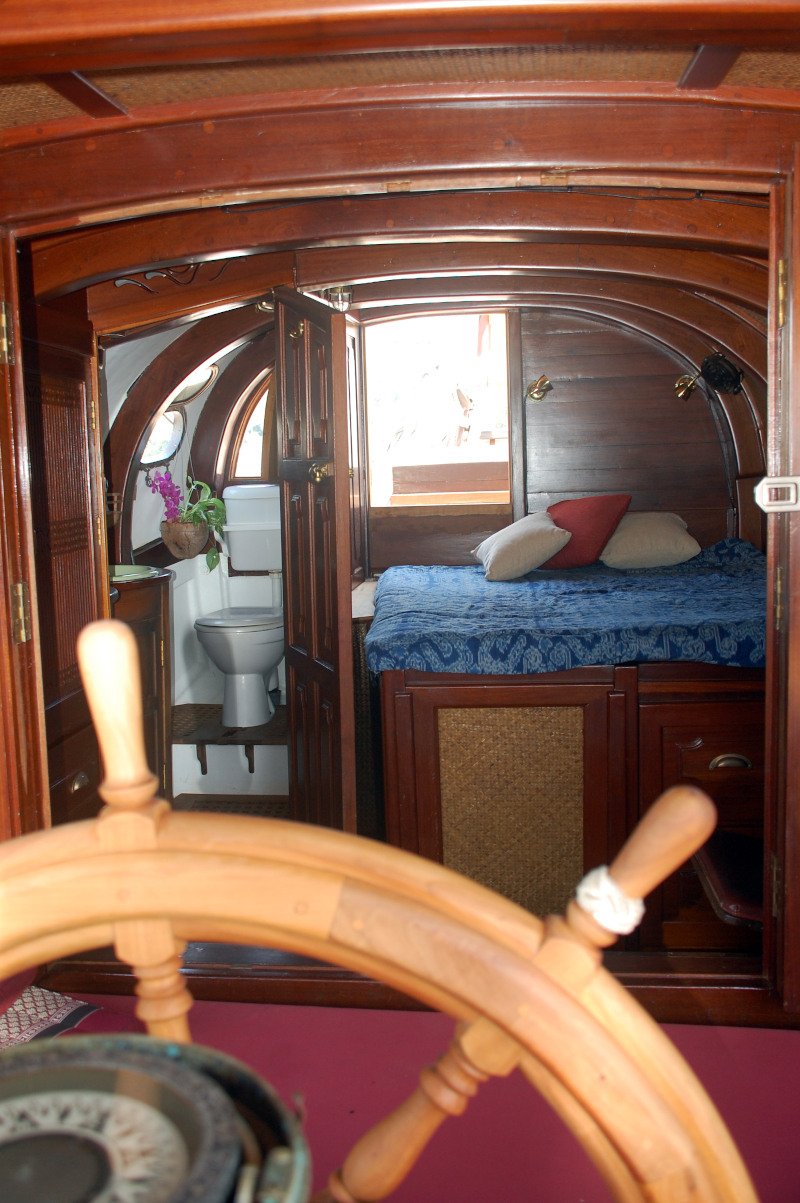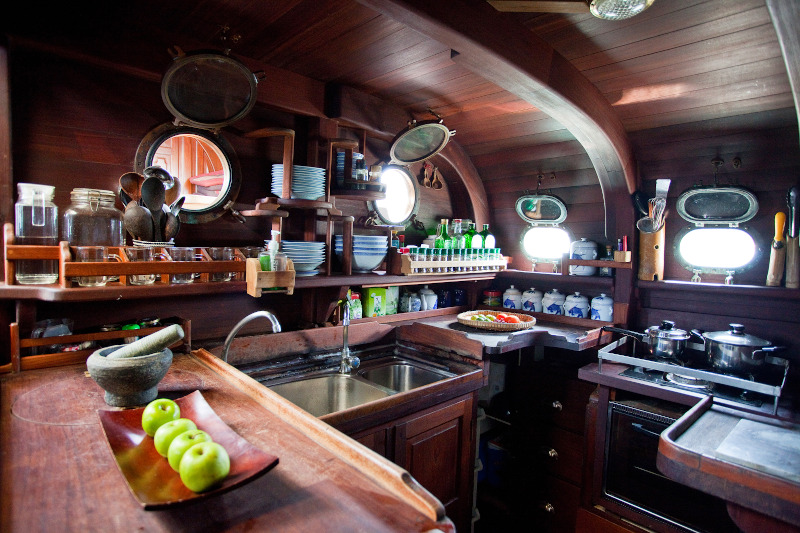 Choose the Items to Display the Pictures
Naga Pelangi current location
Christoph Swoboda
c/o The Datai Langkawi
Jalan Teluk Datai
07000 Langkawi, Kedah
Malaysia
tel.: +60 12 989 2023
christoph[AT]naga-pelangi.com