Penang, meaning "the betelnut" in Malay, is an island on the west coast of Malaysia. The Malaysian state Penang comprises the island and a small strip of land on the shore.
Penang is one of the richest states in the country, has an ethnic Chinese majority and is densely populated.
It has not much to offer in terms of scenic beaches or dive sites but the old city is a very special attraction.
Gorgetown can provide a rare glimpse into a world gone by. Together with Malacca, the old town was listed as a UNESCO world heritage site. Both are unique after other towns chose to replace their historic architecture with modern buildings.
Pinang is famous for its variety of food and its multicultural history.
As an important port of the late spice route, Penang is the first stop of our Spice Route Passage that will take us round the peninsula to the east coast.
We sail on the route of the old traders of the heydays of the spice trade and will round Singapore, passing the huge ships lying in the roadstead there.
Finally the Naga Pelangi will arrive in the South China Sea, with its many beautiful islands, its crystal clear waters and fascinating dive sites.
---
Naga Pelangi Spice Route Passage *
Southbound Penang - Malacca
Before the SW-monsoon sets in, Naga Pelangi sails to the east coast, visiting historic ports along the way.
This is a major passage of a 1000 miles! Stops in Penang, Pankor, Port Dickson, Malacca, cruise ends in Tioman island.
Departure: Leave Penang in May after arriving from Langkawi.
Duration: 14 days Langkawi - Tioman.
Availability: Transition period - May
* All cruises mentioned above are available during the NE-monsoon from December - April only.
The cruises are proposals. Naga Pelangi offers private charters and the charterer is encouraged to propose destinations and schedules within the frame of the monsoon weather pattern. We are looking forward to your suggestions.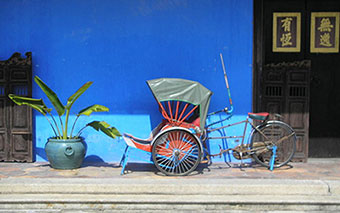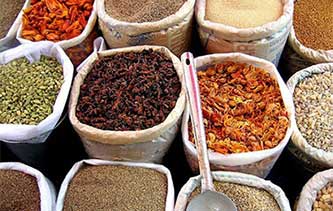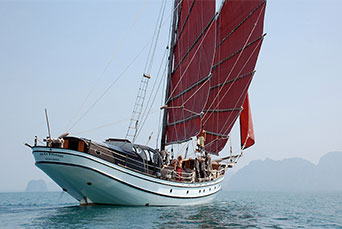 Find Out More About Us
Please feel free to get in contact with us. We appriciate any inquiry and we endeavor for a quick response.
Come For a Visit
Naga Pelangi c/o
Royal Langkawi Yacht Club,
Jalan Dato Syed Omar, Malaysia