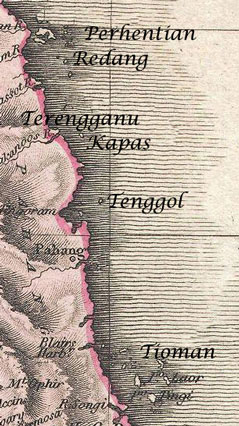 Tioman is the biggest of a group of volcanic islands on the south eastern coast of the Malay Peninsula. Tioman was made a taxfree island and shopping is inexpensive.
It set the scene for a 1958 movie featuring a Pacific island and was elected by Time magazine as one of the worlds most beautiful islands. Tioman is a strictly enforced nature reserve and sparsely inhabited. It is surrounded by live coral reefs.
It is a heaven for scuba diving and snorcheling. Most of the island is covered with 130 million year old virgin jungle holding an abundance of species, some of them endemic.
Two species of turtles are only to be found here.
When trekking in this exceptional environment, one will discover numerous mountain streams and steep waterfalls.
Like a giant sleeping dragon, the dark green ridges of Tioman Island rise up above the waters of the South China Sea.
The dragon-like appearance of Tioman Island is at the root of a legend surrounding its origin:
A dragon princess from China was flying to her prince in Singapore and stopped to rest in these calm, warm waters.
Enamoured by the beauty of the area, and the waves lapping at her sides, she discontinued her journey and took the form of an island.
---
Tioman Cruise 1:
Tioman Archipelago Round Trip *
Departure: Mersing (coastal harbour town) @ lunch time. Naga Pelangi sails the Tioman Archipelago with stops at Pulau (Malay: island) Tinggi, Pulau Pemanggil, Pulau Tioman, Pulau Rawa, Pulau Babi and return.
Duration: This is a modular cruise. The full 5 island cruise lasts one week. Minimum 1 island, 2 days, 1 night.
---
Tioman Cruise 2:
Pearlstring Islands Hop *
Departure: Mersing or Tioman @ lunch time. Sail north along the pearlstring of islands until Perhentian, the northernmost of the prettiest islands Malaysia has to offer.
We stop for overnight breaks at Pulau Tenggol, Pulau Kapas, sail past Pulau Bidong to Pulau Redang and finally arrive at Pulau Perhentian, the last island on the pearlstring.
This Pearlstring Islands Hop gives a very good impression of sailing a traditional Malay junk schooner, because wind is almost guaranteed and good distances are sailed every day. And you will see some of the most beautiful islands of SE-Asia.
Duration: One week is the minimum if all 4 islands are to be visited. It could easily be extended to last 10 days to enjoy a full day at each anchorage.
---
Tioman Cruise 3:
Borneo Passage *
Departure: Mersing or Tioman. Upon arrival in Tioman from the west coast, Naga Pelangi will either sail north on the Pearlsring Islands Hop and on to the Gulf of Siam or she will spend the SW-monsoon in the Borneo area and see Kuching, Brunei and Sabah. The route passes close to some beautiful Indonesian islands and if booking is early, we could apply for a sailing permit which is required by the authorities if a stop is planned in the area.
Duration: A non-stop passages takes about 4 days.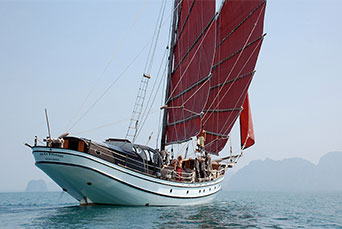 Find Out More About Us
Please feel free to get in contact with us. We appriciate any inquiry and we endeavor for a quick response.
Come For a Visit
Naga Pelangi c/o
Royal Langkawi Yacht Club,
Jalan Dato Syed Omar, Malaysia